Journal of Liberal Democrat History 21
Issue: 21, Winter 1998Price: £3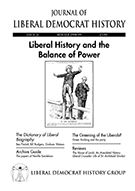 Journal of Liberal Democrat History 21
Contents
How much influence do third parties holding the balance of power really exert?
The papers of Neville Sandelson MP (Labour 1971-81, SDP 1981-83), at the British Library of Political & Economic Science.
Foreword to the History Group's new book, report of LDHG meeting of September 1998, which launched it, and the two speeches given there.
The development of green thinking in the party.
Review of John Wells, The House of Lords: An Anecdotal History (Hodder & Stoughton, 1998).
Review of Gerard J. De Groot, Liberal Crusader: The Life of Sir Archibald Sinclair (Hurst & Co.,1993).