Journal of Liberal History 57
Issue: 57, Winter 2007Price: £6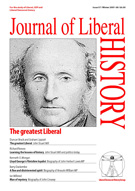 Journal of Liberal History 57
Contents
Tom McNally, Paddy Ashdown, Richard Reeves and Kenneth Morgan put forward their candidates for the the title of greatest Liberal: Keynes, Gladstone, Mill and Lloyd George.
What would John Stuart Mill make of todays politicians?
The political achievement of John Herbert Lewis MP (1858-1933).
Liberal Democrat leadership contenders' political heroes.
The life and activities of Aneurin Williams MP (1859-1924).
The life of John Creasey (1908-73), Liberal candidate and author of almost 600 books.
Review of Garry Tregidga (ed.), Killerton, Camborne and Westminster: The Political Correspondence of Sir Francis and Lady Acland 1910-29 (Devon and Cornwall Record Society, 2006).
Review of James R. Moore, The Transformation of Urban Liberalism (Ashgate, 2006).
Review of Dewi Rowland Hughes, Cymru Fydd (University of Wales Press, 2006).