Journal of Liberal History 63
Issue: 63, Summer 2009Price: £6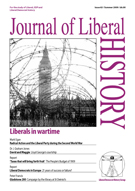 Journal of Liberal History 63
Contents
The story of this influential pressure group within the Liberal Party.
Diaries and correspondence files are used to examine the courtship between David Lloyd George and Margaret Owen between 1884 and their marriage in 1888.
Report of the Liberal Democrat History Group meeting at The National Liberal Club, 12 January 2009, with Kenneth O. Morgan and Vince Cable MP. Chair: Lord Wallace.
Report on the commemorations of autumn 2008.
Report of the Liberal Democrat History Group meeting at the Liberal Democrat conference, Harrogate, 6 March 2009, with William Wallace and Sarah Ludford MEP. Chair Tony Little.
How long was Lloyd George an MP? (Kenneth. O. Morgan and David Williams); Sheelagh Murnaghan (Berkley Farr); CB and women's suffrage (Sandy Waugh); Morley and Gladstone (Patrick Jackson).
Review of E. H. H. Green and D. M. Tanner (eds.), The Strange Survival of Liberal England (Cambridge University Press, 2007).
Review of David Marquand, Britain since 1918 (Weidenfeld & Nicholson, 2008).
Review of Ian R. Grimwood, A Little Chit of a Fellow: a biography of the Right Hon. Leslie Hore-Belisha (Guild Publishing, 2006).
Review of Alison Holmes (ed.), A Liberal Mind in Action: Essays in Memory of Richard Holme (Matador Publications, 2008).
The Gladstone 200 Campaign at St Deiniol's Library.