Journal of Liberal History 64
Issue: 64, Autumn 2009Price: £7.5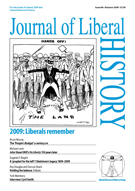 Journal of Liberal History 64
Contents
An examination of the genesis, content and impact of Lloyd George's famous Budget of one hundred years ago.
An analysis of the most well-known work of the greatest of the Victorian Liberal philosophers, published 150 years ago this year, and an assessment of its relevance to 2009.
In the year of the 200th anniversary of his birth, what relevance has Gladstone to today's politics?
An exchange of views between Duncan Brack and Roy Douglas on the desirability of a hung parliament and its possible impact on the Liberal Democrats.
An interview with Sir Cyril Smith MBE, the larger-than-life former MP for Rochdale and Chief Whip.
Report on a joint meeting of the History Group and the National Liberal Club on 20 July 2009, with Professor Anthony Howe, David Steel (Lord Steel of Aikwood) and Ros Scott (Baroness Scott of Needham Market).
Report of the unveiling of a portrait bust of the Rt Hon. Jeremy Thorpe at the House of Commons on 15 July 2009.
Report of a conference organised by the University of Chester, in association with St Deiniol's Library, Hawarden, 5-8 July 2009.
How long was Lloyd George an MP? – continued (Patrick Mitchell); Gladstone, St Deiniol's and the Church (Dr Alexander Waugh)
Review of Paddy Ashdown, A Fortunate Life: The Autobiography of Paddy Ashdown (Aurum Press, 2009).
Review of Ruth Clayton Windscheffel, Reading Gladstone (Palgrave Macmillan, 2008).
Review of David Dutton, Liberals in Schism - A History of the National Liberal Party (I. B. Tauris, 2008).
Review of Andrew Thorpe, Parties at War: Political Organisation in Second World War Britain (Oxford University Press, 2009).
Palmerston's papers at the Hartley Library, University of Southampton.