Journal of Liberal Democrat History 25 – Special issue: Crossing the Floor
Issue: 25, Winter 1999Price: £5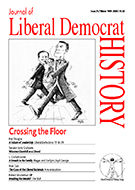 Journal of Liberal Democrat History 25 – Special issue: Crossing the Floor
Contents
Introduction to this special issue of the Journal, on political defections.
The defection of the Liberal Unionists in 1886 was the greatest blow the Liberal Party suffered in the nineteenth century. This article explains what happened and suggests that there are still some unanswered questions.
Winston Churchill was one of the famous politicians to have held high office in the administrations of two different parties. The text of this article was first delivered as a toast to the University Club of Toronto and a remembrance of the 'Other Club' in 1995 by Liberal Senator Jerry S. Grafstein QC.
Defections 1918-29. The post-First World War period saw many Liberals, including high-profile personalities such as Winston Churchill, decide that the time was right for them to change political parties.
Since the Liberal Nationals first divided from the official Liberals and eventually merged with the Conservatives, they have often been regarded as Tory cuckoos in the Liberal nest. This article re-evaluates their role.
Biography of Donald Johnson (1903-78), a self-styled 'political entrepreneur' who moved from the radical wing of the Liberal Party to become a Conservative MP.
Examination of the defections, in the 1950s, of the children of David Lloyd George: Megan to Labour, and her brother Gwilym to the Conservatives.
Robert Maclennan was one of the original MPs who left the Labour Party to found the SDP, eventually becoming its third, and last, leader.Tony Little interviewed him during the 1999 Liberal Democrat conference at Harrogate.
In 1995, John Dickie, Liberal Democrat councillor in Camden and Federal Executive member, quit the party and joined Labour. Neil Stockley interviewed him on his defection.
Review of David Dutton, Simon: A political biography of Sir John Simon (Aurum Press, 1992).
Review of Christopher Mayhew, A Cold War Witness (I. B. Tauris, 1998).
Review of Emma Nicholson, Secret Society, Inside - and Outside - the Conservative Party (Indigo, 1996).