Journal of Liberal Democrat History 26
Issue: 26, Spring 2000Price: £4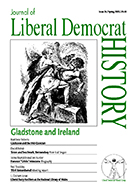 Journal of Liberal Democrat History 26
Contents
Gladstone tried repeatedly to resolve the problem of Ireland. This article argues that his efforts were doomed to failure because of his own prejudices and preconceptions.
Analysis of how Simon Hughes came to be selected for the apparently unwinnable seat of Southwark, Bermondsey.
The career of the Right Honourable Harcourt Johnstone (1895-1945).
Report of the History Group meeting of September 1999, on the 1974 elections, with Tim Beaumont, Viv Bingham, Sir Cyril Smith, Paul Tyler MP and Richard Wainwright.
Review of Roy Jenkins, The Chancellors (Macmillan, 1998).
Review of Duncan Brack and Robert Ingham (eds.), Dictionary of Liberal Quotations (Politico's Publishing, 1999).
Liberal Party archives at the National Library of Wales.