Journal of Liberal Democrat History 27
Issue: 27, Summer 2000Price: £3.5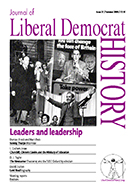 Journal of Liberal Democrat History 27
Contents
Interview with Jeremy Thorpe, leader of the Liberal Party 1967-76.
Examination of the offer of a cabinet position to the Liberal leader Clement Davies in October 1951.
The story of the novelist William Makepeace Thackeray's spirited performance on the Oxford hustings in 1857.
The career of Philip Russell Rea, (1900-81), the Liberal leader in the Lords in the 1950s and 60s.
Report of History Group meeting of November 1999, on Liberal/Labour relations during the 1918-31 period.
Report of History Group meeting of February 2000, on Liberal, SDP and Liberal Democrat leaders, with Robert Maclennan MP and Professor Peter Clarke.
Review of Daniel Waley, A Liberal Life: Sydney, Earl Buxton, 1853-1934 (Newtimber, 1999).
Review of Peter Joyce, Realignment of the Left? A history of the relationship between the Liberal Democrat and Labour parties (Macmillan, 1999).
Review of Conrad Russell, An Intelligent Person's Guide to Liberalism (Duckworth, 1999).