Journal of Liberal Democrat History 29
Issue: 29, Winter 2000Price: £4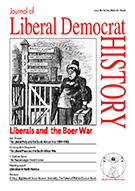 Journal of Liberal Democrat History 29
Contents
Examination of the crisis in the Liberal Party that was provoked by the Anglo-Boer War.
The 'khaki election' of 1900 saw the Liberals performing poorly. This article examines one seat they gained from the Conservatives.
The importance of the Liberal press in the politics of the Second Boer War.
The life and career of David Davies, the first Baron Davies of Llandinam (1880-1944).
Report of LDHG meeting of September 2000, with Dilys Hill, Terry McDonald and Akaash Maharaj.
Community politics (David Rebak); the Popular Front (Graem Peters); Grey and Asquith (Michael Brock).
Review of Mark D'Arcy & Rory Maclean, Nightmare! The Race to Become London's Mayor (Politico's Publishing, 2000).
Review of Charles Kennedy, The Future of Politics (HarperCollins, 2000).
Review of Garry Tregidga, The Liberal Party in South-West Britain since 1918: Political Decline, Dormancy and Rebirth (University of Exeter Press, 2000).
Review of G. W. Keeton James, A Liberal Attorney-General; Being the Life of Lord Robson of Jesmond, 1852-1918, with an Account of the Office of Attorney-General, etc. (Nisbet & Co, 1949).