Journal of Liberal Democrat History 30
Issue: 30, Spring 2001Price: £4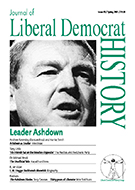 Journal of Liberal Democrat History 30
Contents
In November 2000 Paddy Ashdown published the first volume of his diaries. This article comprises two interviews with him on his period as leader.
Examination of the part played by the renegade Conservatives – the Peelites – in the creation of the Liberal Party.
The Bodleian Library's acquisition of H.H. Asquith's personal papers.
The political life and career of Liberal MP James Myles Hogge (1873-1928).
Report of Liberal Democrat History Group meeting of January 2001, with speakers including Lord Oakeshott and Sir Ian Wrigglesworth.
Community politics (Michael Meadowcroft & Robert Ingham); The Liberal Party and the outbreak of World War I (Peter Hatton).
Review of Paddy Ashdown, The Ashdown Diaries, Volume 1: 1988-1997 (Allen Lane, The Penguin Press, 2000).
Review of, Thirty Years of Liberator.
Review of Robert Skidelsky, John Maynard Keynes: Fighting for Britain 1937-46 (Macmillan, 2000).