Journal of Liberal Democrat History 32
Issue: 32, Autumn 2001Price: £4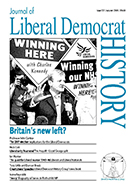 Journal of Liberal Democrat History 32
Contents
Examination of the Liberal Democrat performance in the election of 7 June 2001, with lessons for the party's future strategy.
Why the Liberal Party failed to patch up effectively its first major post-war split, between the supporters of Asquith and those of Lloyd George.
History of the attempts to reunite the Liberal Nationals with the official Liberal Party in the 1940s.
The electoral impact of a potential Liberal-National Liberal reunion in the 1940s.
Introduction to the Liberal Democrat History Group's latest publication.
Speech: Winston Churchill at the National Liberal Club, 22 July 1943.
The career of one of the Liberal Party's most colourful MPs, James de Rothschild (1878-1957).
Liberal Party membership systems pre-merger.
Violet Bonham-Carter's diaries (Alan Beith, Hugh Pagan).
Report of Liberal Democrat History Group meeting of July 2001, with Lord Dholakia and Dr Shamit Saggar.
Review of Jo and Laura Grimond, A Selection of Memories and Photographs 1945-1994 (Orkney Liberal Democrats, 2000).
Review of Paul Scherer, Lord John Russell (Associated University Press, 1999).
Review of Tom Reilly, Cromwell: An Honourable Enemy (Brandon, 1999).
Review of Eric Hopkins, Charles Masterman (1873-1927): Politician and Journalist - The Splendid Failure (Lampeter Press, 1999).