Journal of Liberal Democrat History 33 – Special issue: Liberals and Ireland
Issue: 33, Winter 2001Price: £5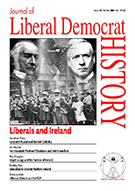 Journal of Liberal Democrat History 33 – Special issue: Liberals and Ireland
Contents
Introduction to special issue on Liberals and Ireland.
1782 – 1801: the critical period in Irish and British history during which many of the seeds of the present troubles were sown.
1829 – 1852: despite the Whig leader Lord John Russell's efforts to work for justice to Ireland, his policies ended mainly in failure.
1868 -1974: analysis of Gladstone's domination of both the Liberal Party and Ireland in the latter part of the nineteenth century.
1880 – 1886: Gladstone's efforts to achieve Home Rule for Ireland.
1910 – 1916: the Liberal Government came close to granting Ireland Home Rule in 1914. This article examines why it failed and what happened after.
1916 – 1921: analysis of Lloyd George's answer to the Irish Question after the Easter Rising.
1921 – 1971: despite all the obstacles, Liberalism survived in Northern Ireland after partitition.
1971 – 1985: the Alliance Party of Northern Ireland was born in the midst of the Troubles, in April 1970. This article looks back at the party's history and its relationships with the Liberal Party and the SDP.
Review of Peter Gray, Famine, Land and Politics: British Government and Irish Society, 1843-50 (Irish Academic Press, 1999).
Review of David Bebbington and Roger Swift (eds.), The Gladstone Centenary Essays (Liverpool University Press, 2000).
Review of Stephen Howe, Ireland and Empire: Colonial Legacies in Irish History and Culture (Oxford University Press, 2000).
Review of Gordon Gillespie, Albert H. McElroy: The Radical Minister (Albert McElroy Memorial Fund, 1985).