Journal of Liberal Democrat History 34/35
Issue: 35, Summer 2002Price: £5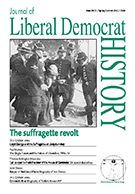 Journal of Liberal Democrat History 34/35
Contents
A re-examination of the reopening by Lloyd George in September 1912 of the village institute at his native Llanystumdwy, when the proceedings were blighted by constant suffragette interruptions.
Analysis of what was hailed, in the early years of the twentieth century, as the radical alternative to collectivism and even the New Liberalism.
Liberal archives at the University of Bristol Library.
Speech by Thomas Babington Macaulay on Jewish Disabilities (House of Commons, 17 April 1833).
The life of Ivor Davies (1915-1986), who would have been the Liberal candidate at the Oxford by-election in 1938.
The life and political career of the contentious, individualistic, right-wing Liberal MP for Cardiganshire from 1945 until 1966, Captain E. Roderic Bowen MP (1913-2001).
Report of Liberal Democrat History Group meeting of September 2001, with Roy Jenkins, Max Atkinson and Paddy Ashdown – the launch of Great Liberal Speeches.
Report of Liberal Democrat History Group meeting of February 2002, with Professor Peter Marsh and Dr Graham Davis.
Review of Duncan Brack and Tony Little (eds.), Great Liberal Speeches (Politico's Publishing, 2001).
Review of Eugenio Biagini, Gladstone (Macmillan Press, 2000).
Review of Richard S. Grayson, Liberals, International Relations and Appeasement (Frank Cass, 2001).
Review of Peter Kilfoyle, Left behind: Lessons from Labour's Heartland (Politico's Publishing, 2000).
Review of David Cecil, The Young Melbourne and Lord M (Phoenix Press, 2001).
Review of Antony Lentin, Lloyd George and the Lost Peace: From Versailles to Hitler, 1914-1940 (Palgrave, 2001).