Journal of Liberal Democrat History 36
Issue: 36, Autumn 2002Price: £4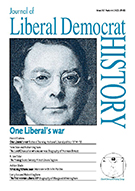 Journal of Liberal Democrat History 36
Contents
The First World War tore the Liberal Party apart. David Dutton looks at how one Liberal MP lived through the conflict.
Biography of the leading Liberal lawyer Norman Birkett (1883-1962).
The story of the influence of Scottish young Liberals before and after the Great War.
Interview with John Pardoe, Liberal MP for North Cornwall, 1966-79.
The life and political career of the first woman Liberal MP, Margaret Wintringham (1879-1955).
Roderic Bowen (Michael Meadowcroft).
Report of March 2002 Liberal Democrat History Group meeting on free trade, with Anthony Howe, David Dutton and Duncan Brack.
A speech made by Richard Cobden in March 1845, near the climax of the campaign to abolish the Corn Laws.
Review of William Kuhn, Henry & Mary Ponsonby (Duckworth, 2002).
Review of Roy Jenkins, Churchill (Macmillan, 2001).