Journal of Liberal Democrat History 37
Issue: 37, Winter 2002Price: £5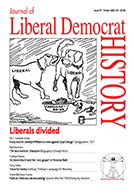 Journal of Liberal Democrat History 37
Contents
Review of Chris Cook, A Short History of the Liberal Party 1900-2001 (Palgrave, 2002).
Review of David Boyle, The Tyranny of Numbers: Why counting can't make us happy (Harper Collins, 2001).
Examination of the February 1921 by-election in Cardiganshire, where Asquithian and Lloyd George Liberals engaged in bitter internecine warfare.
Biography of one of the first working men to be elected to Parliament, Joseph Arch (1826-1919).
Analysis of the municipal record of the leader of Bath's Victorian Liberals.
The story of novelist Anthony Trollope's campaign for Beverley in Yorkshire in 1868.
Violet Bonham Carter's speech after the 1920 Paisley by-election.
Report of the July 2002 Liberal Democrat History Group meeting, with Conrad Russell, Shirley Williams and Michael Freeden.
The Thurso papers at the Churchill Archives Centre, Cambridge.