Journal of Liberal History 40
Issue: 40, Autumn 2003Price: £5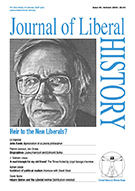 Journal of Liberal History 40
Contents
The contribution of the American philosopher John Rawls to political philosophy and Liberal thought.
The life and career of Lewis 'Loulou' Harcourt.
The occasion when The Times took at face value an imaginary interview with David Lloyd George.
Interview with David Steel.
Distributism – an alternative Liberal tradition?
The career and political thought of Edmund Burke.
Review of John Grigg, Lloyd George: War Leader (Allen Lane, The Penguin Press, 2002).
Review of Michael McManus, Jo Grimond: Towards the Sound of Gunfire (Birlinn, 2001).
Review of Mark Bonham Carter and Mark Pottle (eds.), Lantern Slides: The Diaries and Letters of Violet Bonham Carter 1904-1914 (Weidenfeld and Nicholson, 1996).
Report of Liberal Democrat History Group meeting of March 2003, with Baroness Liz Barker and Diana Wallis MEP
Liberal archives at the Dundee City Archives.