Journal of Liberal History 41
Issue: 41, Winter 2003Price: £5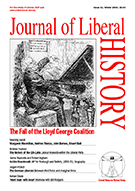 Journal of Liberal History 41
Contents
The history of what became known as Lib-Labbery: the representation of labour interests in parliament through the Liberal Party.
The career of Archie Macdonald, Liberal MP for Roxburgh and Selkirk 1950-51.
Lewis Harcourt (Peter Hatton); the Darlington by-election (Larry Iles).
Between third force and marginal force: the Free Democratic Party in German politics.
Interview with Bill Rodgers.
Report of Liberal Democrat History Group meeting of February 2003, with David Butler and Neil Stockley.
Report of the joint Liberal Democrat History Group/Conservative History Group meeting of July 2003, with Margaret Macmillan, Andrew Thorpe, John Barnes and Stuart Ball.
Review of Paddy Ashdown, The Ashdown Diaries: Volume Two 1997-1999 (Allen Lane, 2001).
Review of Jane Jordan, Josephine Butler (John Murray, 2001).
Review of Sheila Gooddie, Mary Gladstone: A Gentle Rebel (John Wiley & Sons, 2003).
The David Owen papers at the University of Liverpool.