Journal of Liberal History 42 – Special issue: Liberals and International Policy
Issue: 42, Spring 2004Price: £5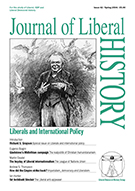 Journal of Liberal History 42 – Special issue: Liberals and International Policy
Contents
Introduction to the special edition of the journal on Liberals and international policy.
The realpolitik of Christian humanitarianism.
Lib-Labs (Roy Douglas); Archie Macdonald (Michael Meadowcroft).
Despite the weakness of the Liberal Party in the inter-war period, Liberal ideals remained important.
The impact of imperialism on democracy and liberalism in Britrain 1865-1920.
Lloyd George's Queen's Hall speech of 19 September 1914.
The Liberal leader's role as a critic of appeasement.
The development of global cooperation between Liberal parties.
Examination of the Liberal role in the Suez crisis of 1956 and the long-term consequences for the Liberal Party.
Review of Derek Beales and Eugenio F. Biagini, The Risorgimento and the Unification of Italy (Longman, 2nd edition, 2002).
Review of Margaret MacMillan, Peacemakers: The Paris Conference of 1919 and Its Attempt to End War (John Murray, 2003).
The development of the Liberal commitment to Europe, 1945-64.