Journal of Liberal History 45
Issue: 45, Winter 2004Price: £5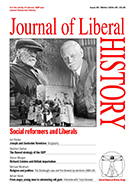 Journal of Liberal History 45
Contents
The careers of social reformers and committed Liberals Joseph (1836-1925) and Seebohm (1871-1954) Rowntree.
Argues that the SDP ultimately failed because its strategy was fundamentally flawed.
Cobden's critique of British imperialism.
Appreciation of the life of the historian and Liberal Democrat peer (and Honorary President of the History Group).
Religion and politics. The impact of the Bradlaugh case on the Berwick-upon-Tweed by-elections of 1880 and 1881.
Interview with Tony Greaves.
Speeches and names (Michael Meadowcroft); Counterfactuals (Andrew Hudson); Spectacular victories (Larry Iles); Auntie Nell, the mole (Anne Roberts).
Report of the Liberal Democrat History Group meeting, March 2004 in Southport, with Sir Trevor Jones and Cllr Mike Storey.
Review of Paul Richards, How to Win an Election (2nd edition; Politico's 2004).
Review of John Vincent (ed.), The Diaries of Edward Henry Stanley, 15th Earl of Derby (1826-93): A Selection (Leopard's Head Press, 2003).