Journal of Liberal History 46
Issue: 46, Spring 2005Price: £5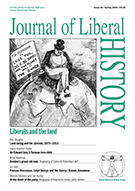 Journal of Liberal History 46
Contents
Why did the Liberals of the late nineteenth and early twentieth centuries care so much about the land question in general, and land value taxation in particular?
The unusual family story of the leading Liberal statesman.
The life and political career of Edmund Robertson, Lord Lochee of Gowrie (1845-1911).
David Lloyd George's and Frances Stevenson's connections with Surrey and Sussex.
Biography of Raymond Jones (1883-1948), constituency organiser, election agent and parliamentary candidate.
Update on voting behaviour of Liberal Democrat MPs.
Liberalism in the 1920s (Jaime Reynolds); Hair in history (Tim Hill); Liberalism in Liverpool (Michael Meadowcroft).
Report of the Liberal Democrat History Group meeting at Bournemouth, September 2004, with Dick Taverne, Shirley Williams and Peter Riddell.
Interview with Tom McNally.
Review of David Dutton, A History of the Liberal Party in the Twentieth Century (Palgrave, 2004).
Review of Edward Pearce, Reform! The Fight for the 1832 Reform Act (Pimlico, 2004).
Review of Henry Vane, Affair of State: A Biography of the 8th Duke and Duchess of Devonshire (Peter Owen, 2004).
The Beveridge archives at the London School of Economics Library.