Journal of Liberal History 49
Issue: 49, Winter 2005Price: £5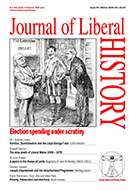 Journal of Liberal History 49
Contents
The use of the Lloyd George Fund in two constituencies in the 1929 election.
Bribery and Berwick (Willis Pickard); Death duties in 1894 (Patrick Jackson).
The story of Liberalism in Wales 1906 – 1979.
The political life of John Wodehouse, 1st Earl of Kimberley (1826 – 1902).
Report of the Liberal Democrat History Group meeting held at the National Liberal Club on 25 July 2005, with Peter Marsh and Terry Jenkins.
Review of Gareth Stedman Jones, An End to Poverty? A Historical Debate (Profile Books, 2004).
Review of James Chambers, Palmerston: 'The People's Darling' (John Murray, 2004).
Review of Emily Robinson & Justin Fisher, General Election 2005 - What the Voters Saw (New Politics Network, 2005).
Review of Paul Richards (ed.) Tony Blair: In His Own Words (Politico's, 2004).
Review of British Elections & Parties Review, Volume 13 (edited by Colin Rallings, Roger Scully, Jonathan Tonge and Paul Webb (Frank Cass, 2003) and Volume 14 (edited by Roger Scully, Justin Fletcher, Paul Webb and David Broughton (Taylor & Francis, 2004).