Journal of Liberal History 50
Issue: 50, Spring 2006Price: £5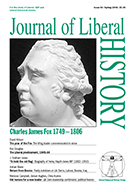 Journal of Liberal History 50
Download available only for subscribers.
Contents
2006 sees the bicentenary of the death of the Whig leader Charles James Fox. This article looks at how Fox is commemorated in stone.
How, despite the desperate state of their party, many Liberals kept the faith going at the nadir of the Liberal Party's fortunes.
Biography of Henry Haydn Jones (1863-1950), Liberal MP for Merionethshire 1910-45.
Paddy Ashdown interviewed on his career as Liberal Democrat leader and as High Representative in Bosnia and Herzegovina, and his views on Labour, the Lib Dems and Iraq.
Liberal Democrat leadership contenders political heroes.
with John Curtice, Andrew Russell and Chris Rennard.
Joint British Liberal Political Studies Group and History Group conference.
Scottish Liberal Club lecture, with Willis Pickard.
Review of Paul Addison, Churchill: The Unexpected Hero (Oxford University Press, 2005).
Review of Roy Douglas, Liberals: A History of the Liberal and Liberal Democrat Parties (Hambledon, 2005).
Review of Leo McKinstry, Rosebery: Statesman in Turmoil (John Murray, 2005).
Review of William Anthony Hay, The Whig Revival, 1808-1830 (Palgrave Macmillan, 2005).
Liberal history archives at Manchester Archives and Local Studies.