Journal of Liberal History 55
Issue: 55, Summer 2007Price: £6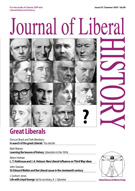 Journal of Liberal History 55
Contents
Who is the greatest Liberal of all time? Your chance to decide.
What can Liberal Democrats learn from the Liberal Party's positions in the 1930s?
What did Tony Blair draw from the New Liberalism of the Hobhouse and Hobson?
The life of Liberal MP Edward Watkin, the last of the railway kings.
A. J. Sylvester's Life with Lloyd George remains a unique source of information. This article examines its preparation, publication and impact.
Report of meeting of 20 September 2006, with Paul Marshall and Ed Randall
Report of the History Group meeting held at the National Liberal Club on 5 February 2007, with Robert Colls and John Solomos. Chair, Nick Clegg MP.
Review of Ian Packer, Liberal Government and Politics, 1905-15 (Palgrave, 2006).
Report of Andrew Suttie, Rewriting the First World War: Lloyd George, Politics and Strategy 1914-18 (Palgrave, 2005).
Review of Norman Kemp-Smith, The Philosophy of David Hume: A Central Study of its Origins and Central Doctrines, with a new introduction by Don Garrett (Palgrave Macmillan, 2005).
Review of Arthur Aspinall, Lord Brougham and the Whig Party (Originally published 1927; reprinted Nonsuch, 2005).