Journal of Liberal History 56
Issue: 56, Autumn 2007Price: £6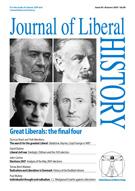 Journal of Liberal History 56
Contents
The final stage of the History Group's 'Great Liberals' contest, together with results of the first-stage ballot.
The story of two constituencies where Liberals and Liberal Nationals fought each other at the 1935 general election.
Analysis of the outcomes of the local, Scottish and Welsh elections of May 2007. What do they mean for the Liberal Democrats?
The history of the Danish social liberal party, Det Radikale Venstre.
Josiah C. Wedgwood's battle against the collectivists, 1906 – 1914.
Injustice to Asquith (John Howe); Watkin, Yarmouth and Exeter (Michael Steed).
Keynote speech to the Cambridge 1906 seminar.
Report of History Group meeting, March 2007 (Harrogate), with David Howarth MP and Michael Meadowcroft.
Review of Michael Foot and Alison Highet (eds.), Isaac Foot: A Westcountry Boy - Apostle of England (Politico's Publishing, 2006).
Review of Duncan Brack and Ed Randall (eds.), Dictionary of Liberal Thought (Politico's Publishing, 2007).
Review of Duncan Brack (ed.), President Gore ... and other things that never happened (Politico's Publishing, 2006).
Review of Mark Hichens, Prime Ministers' Wives - and One Husband (Peter Owen, 2004).
Review of Richard S. Grayson (ed.), Political Quarterly: Special Issue on the Liberal Democrats, Vol.78, issue 1 (Blackwell, 2007).