Journal of Liberal History 58
Issue: 58, Spring 2008Price: £6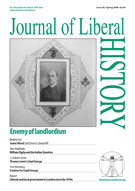 Journal of Liberal History 58
Contents
The life and political career of James Wood, victor of the East Down by-election in February 1902.
The first secretary of the National Liberal Club was also a radical political organiser and agitator for India. Examination of his activities.
The greatest Liberal? (Roy Douglas); Lloyd George and Hitler (Vernon Bogdanor).
The story of the writing of one of the best single-volume biographies of Lloyd George.
Lloyd George's statue unveiled in Parliament Square.
Report of meeting of 4 February 2008, with Cllr Sir David Williams and Mike Tuffrey GLA.
Review of Richard Aldous, The Lion and the Unicorn: Gladstone vs Disraeli (Hutchinson, 2006).
Review of David Torrance, The Scottish Secretaries (Birlinn, 2006).
Review of Arthur H. Cash, John Wilkes, The Scandalous Father of Civil Liberty (Yale University Press, 2006).
Review of Richard Toye, Lloyd George and Churchill: Rivals for Greatness (Macmillan, 2007).
Review of Patrick van Schie and Gerrit Voerman (eds.), The Dividing Line Between Success and Failure: a Comparison of Liberalism in the Netherlands and Germany in the 19th and 20th Centuries (Lit Verlag, 2006).