Journal of Liberal History 60
Issue: 60, Autumn 2008Price: £7.5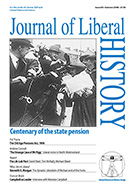 Journal of Liberal History 60
Contents
Analysis of the introduction and implementation of the first state pensions, brought in one hundred years ago.
Pensions and the working class (Martin Pugh); Hastings facts (Patrick Jackson and Paul Hunt); The Master of Elibank (Sandy Waugh); Liberal thinkers (Barry Stocker).
The surprise Liberal victor in North Westmorland in the 1900 election proved to be something of a surprise himself.
Report of meeting of 14 July 2008, with David Steel, Tom McNally and Michael Steed.
The dynastic Liberalism of Michael and all the Foots.
Interview with Menzies Campbell, Leader of the Liberal Democrats 2006-07, on his political career.
Review of Menzies Campbell, My Autobiography (Hodder & Stoughton, 2008).
Review of Kenneth O. Morgan, Michael Foot: A Life (HarperPress, 2007).
Review of Richard Reeves, John Stuart Mill, Victorian Firebrand (Atlantic Books, 2007).
Review of Duncan Brack, Richard S. Grayson and David Howarth (eds.), Reinventing the State: Social Liberalism for the 21st Century (Politico's, 2007).