Journal of Liberal History 61
Issue: 61, Winter 2008Price: £7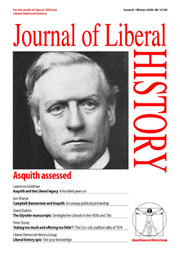 Journal of Liberal History 61
Contents
Assessment of Asquith's record – in a lecture given to mark the centenary of the formation of Aquith's administration.
Analysis of the uneasy political relationship between the two Liberal leaders.
The questions from our conference quiz, the answers, and what the entrants thought were the answers …
The Glyndwr collection at the Denbighshire Record Office throws light on the fortunes of the local Liberal Party in the 1920s and '30s.
Ireland's Liberal MPs (Berkley Farr); News Chronicle (York Membery); Campbell as leader (Michael Meadowcroft); Liberal Foots (John Howe).
The Conservative-Liberal coalition talks of 1-4 March 1974.
Report of full-day seminar, with LSE, 14 June 2008.
Report of fringe meeting of 14 September 2008, with Ian Packer and Joe Harris.
Review of Donald Markwell, John Maynard Keynes and International Relations: Economic Paths to War and Peace (Oxford University Press, 2006).
Review of Richard Shannon, Gladstone: God and Politics (Hambledon Continuum, 2007).
Review of Peter J. Stanlis (ed.), Edmund Burke: Selected Writings and Speeches (Transaction Publishers, 2007).
Review of Mark Francis, Herbert Spencer and the Invention of Modern Life (Acumen, 2007).