Journal of Liberal History 62 – Special issue: Women and Liberalism
Issue: 62, Spring 2009Price: £8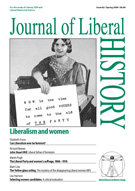 Journal of Liberal History 62 – Special issue: Women and Liberalism
Contents
Guest Editor Elizabeth Evans introduces this special issue by analysing the relationship between Liberalism and feminism.
Exploration of how Liberalism and feminism meet powerfully in the life and work of John Stuart Mill.
Analysis of the relationship between the Liberal Party and the campaigns for womens suffrage.
Interview with Shirley Williams.
Only six women ever sat as Liberal MPs, and most only for very short periods. This article examines why.
The Liberal Democrat record in selecting and supporting women candidates.
The evolution of the Womens Liberal Federation into Women Liberal Democrats.
Review of Ffion Hague, The Pain and the Privilege: the Women in Lloyd George's Life (Harper Press, 2008).
Review of Anne Isba, Gladstone and Women (Hambledon Continuum, 2006).
A personal view of women in Alliance politics.