Journal of Liberal History 70
Issue: 70, Spring 2011Price: £6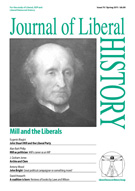 Journal of Liberal History 70
Contents
Lloyd George Society weekend school; Records in Essex; Identity cards and Harry Willcock
Analysis of the impact of the Victorian Liberal philosopher on his party.
Mill's brief career as a Member of Parliament.
The Mill-Taylor Collection at the London School of Economics.
Birmingham's Liberal heritage.
The story of the relationship between the successive Liberal leaders Sir Archibald Sinclair and Clement Davies.
Biography of the radical Liberal campaigner John Bright.
Young Liberals (John Howe).
Report of the Liberal Democrat History Group meeting held at the National Liberal Club, 24 January 2011, with Philip Salmon and Mark Pack; chair William Wallace.
Review of David Laws, 22 Days in May (Biteback, 2010) and Rob Wilson, 5 Days to Power (Biteback, 2010).
Review of J. Graham Jones, Lloyd George and Welsh Liberalism (National Library of Wales, 2010).