Journal of Liberal History 71
Issue: 71, Summer 2011Price: £6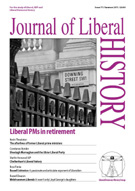 Journal of Liberal History 71
Contents
Welsh Liberal history lecture and tribute to Lord Livsey at the Hay Festival.
A look at the lives in retirement of Russell, Gladstone, Rosebery, Asquith and Lloyd George.
The life and political career of the only Liberal to win a seat in the Northern Ireland parliament.
Mill and Morley (Patrick Jackson); Mill and equality (Dinti Batstone); Chamberlains relatives (Adrian Slade); Liberal peerages (Peter Hatton).
Martin Horwood MP examines the Liberal heritage of his home town.
Biography of this passionate and articulate exponent of Liberalism.
Report of the Liberal Democrat History Group Conference fringe meeting held in Sheffield, 11 March 2011, with Lord Norton and Lord Marks; chair: Baroness Scott.
Report of the Centre Forum meeting, 21 March 2011, with Andrew Adonis, Chris Huhne MP and Greg Clark MP; chair: Roland Rudd.
It was not just Lloyd George's daughters …
Review of Kevin Theakston, After Number 10: Former Prime Ministers in British Politics (Palgrave Macmillan, 2010).
Review of Mark Egan, Coming into Focus: The Transformation of the Liberal Party 1945-1964 (VDM Verlag Dr Muller, 2009).
Review of Matthew Cragoe and Paul Readman (eds.), The Land Question in Britain 1750-1950 (Palgrave Macmillan, 2010).
Review of Adrian Johns, Death of a Pirate: British Radio and the Making of the Information Age (W. W. Norton, 2010).
Review of Ross McKibbin, Parties and People 1914-1951 (Oxford University Press, 2010).