Journal of Liberal History 72 – Special issue: The Liberal experience of coalition government
Issue: 72, Autumn 2011Price: £10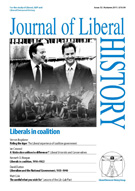 Journal of Liberal History 72 – Special issue: The Liberal experience of coalition government
Contents
Vernon Bogdanor introduces this special issue of the Journal.
Whigs, Peelites and Liberals: an examination of coalitions before 1886.
An analysis of how the Liberal Unionists maintained a distinctive identity from their Conservative allies, until coalition in 1895.
Prelude to disaster: an examination of the Asquith coalition of 1915-16, which brought to an end the last solely Liberal government.
An analysis of the history of the last Liberal-Conservative coalition government.
An examination of the impact of the National Government on the Liberal Party.
An analysis of the parallels between the formation of the coalition governments in 1931 and 2010.
The papers of Liberal activist Frances Josephy are used to examine the attitudes of ordinary Liberals to coalitions in the 1920s and 1930s.
The lessons of the Lib-Lab Pact for the Lib-Con coalition.
Where the 'triple lock' came from, how it worked and its future.
Review of Bernard Donoughue, Downing Street Diary Volume Two: With James Callaghan in Number 10 (Jonathan Cape, 2008).
Review of Vernon Bogdanor, The Coalition and the Constitution (Hart Publishing, 2011).