Journal of Liberal History 73
Issue: 73, Winter 2011Price: £6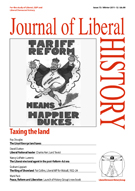 Journal of Liberal History 73
Contents
A look at the history of the land taxes introduced by Lloyd George in the 1909 People's Budget.
An examination of the life and career of Charles Kerr, Lord Teviot.
An analysis of the activities of the Liberal electoral agents in the period after the Great Reform Act.
The unusual career of the entertainment entrepreneur and Liberal MP for Walsall, 1922-24, Pat Collins.
The questions for the 2011 Liberal history quiz (answers in the next issue).
Report of a meeting of June 2011, with Dr Matt Cole, Lord Navnit Dholakia, Baroness Floella Benjamin and Dr Mark Pack.
Report of a Conference fringe meeting, September 2011, with Julian Glover, Paddy Ashdown and Shirley Williams.
Liberal Prime Ministers (Sandy Waugh); Russell Johnston (Andrew Duff); Cheltenham (Michael Steed); Liberal Unionists (Paul Hunt); The triple lock (Philip Goldenberg); Coalitions (Sandy Waugh).
Review of Robert Ingham and Duncan Brack (eds.), Peace, Reform and Liberation: A History of Liberal Politics in Britain 1679-2011 (Biteback Publishing, 2011).
Review of K. O. Morgan, Ages of Reform: Dawns and Downfalls of the British Left (I. B. Tauris, 2011).
Review of Tudor Jones, The Revival of British Liberalism - From Grimond to Clegg (Palgrave Macmillan, 2011).
Review of William C. Lubenow, Liberal Intellectuals and Public Culture in Modern Britain, 1815-1914: Making Words Flesh (Boydell Press, 2010).
Review of Paul Mulvey, The Political Life of Josiah C. Wedgwood: Land, Liberty and Empire, 1872-1943 (Royal Historical Society, 2010).