Journal of Liberal History 74
Issue: 74, Spring 2012Price: £6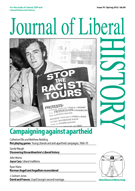 Journal of Liberal History 74
Contents
Orpington celebrated; Now hear what Liberal Democrats really thought.
The Young Liberals and anti-apartheid campaigns, 1968-70.
An article in our 'Liberal Heritage' series, in which well-known Liberal Democrats explore the Liberal history of their native town.
A celebration of the work of the English novelist Joyce Cary, and its roots in Liberal ideas.
The 2010 election and the coalition (Michael Meadowcroft); Pat Collins (Lionel King); Punch and cartoons (Andy Connell); Henry George the socialist (Sandy Waugh).
Angell's ideas as one aspect of the New Liberalism.
An examination of the build-up to the marriage of David Lloyd George and Frances Stevenson in 1943.
The answers (questions in Journal 73).
Report of a Liberal Democrat History Group meeting at the National Liberal Club, 23 January 2012, with Dr Mark Egan and Professor Dennis Kavanagh. Chair, Duncan Brack.
A response to the report on the Liberal Democrat History Group meeting about 'Orpington Man'.
Review of Matt Cole, Richard Wainwright, the Liberals and Liberal Democrats (Manchester University Press, 2011).
Review of Stephen Meredith, Labours Old and New: The Parliamentary Right of the British Labour Party 1970-79 and the Roots of New Labour (Manchester University Press, 2008).
Review of Duncan Kelly, The Propriety of Liberty: Persons, Passions and Judgement in Modern Political Thought (Princeton University Press, 2010).
Review of Judy Steel, Tales from the Tap End (Birlinn, 2010).