Journal of Liberal History 75
Issue: 75, Summer 2012Price: £6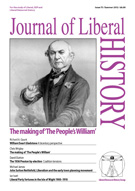 Journal of Liberal History 75
Contents
Gladstone's connections with Nottinghamshire explored.
Analysis of Gladstone's transformation into the most popular politician of his age.
A look at the tensions the by-election caused for Liberal National and Conservative coalition partners.
An article in our 'Liberal Heritage' series, in which well-known Liberal Democrats explore the Liberal history of their native town.
The contribution of the chair of Birmingham's Housing Committee, 1901-11, to the debates on slum housing and town planning.
The political and electoral history of a Liberal-Conservative marginal seat.
Report of a conference fringe meeting, 9 March 2012, with Sir Alan Beith MP and Professor Martin Pugh, chair: Baroness Maddock.
Review of Michael Graham Fry, And Fortune Fled: David Lloyd George, the First Democratic Statesman, 1916-1922 (Peter Lang, 2011).
Review of Gilles Dostaler, Keynes and His Battles (Edward Elgar, 2007).
Review of John Shepherd and Keith Laybourn, Britain's First Labour Government (Palgrave Macmillan, 2006).