Journal of Liberal History 76
Issue: 76, Autumn 2012Price: £6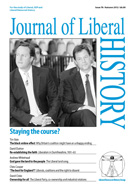 Journal of Liberal History 76
Contents
Neville Masterman; new online resources at the Bodleian Library
Island residents (Mike Falchikov); Campbell-Bannerman (Sandy Waugh).
Why Britain's Conservative-Liberal Democrat coalition might have an unhappy ending.
The revival of Liberalism in Dumfriesshire, 1931-63.
The origins of the Liberal Land Song.
Liberals, coalitions and the right to dissent: the 'agreement to differ' revisited.
Report of the Liberal Democrat History Group meeting on the Liberal Party, co-ownership and industrial relations held at the National Liberal Club, 9 July 2012, with Tudor Jones and Andrew Gamble; chair: Chris Nicholson.
Review of Roland Quinault, Roger Swift and Ruth Clayton Windscheffel (eds.), William Gladstone: New Studies and Perspectives (Ashgate, 2012).
Review of Bill Cash, John Bright: Statesman, Orator, Agitator (I. B. Tauris, 2011).
Review of Alan Mumford: Drawn at the Hustings: General elections 1722-1935 in caricature and cartoon (Burke's Peerage and Gentry, 2011).