Journal of Liberal History 77 – Special issue: David Lloyd George
Issue: 77, Winter 2012Price: £10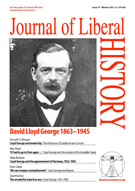 Journal of Liberal History 77 – Special issue: David Lloyd George.
Contents
Introduction to this special issue on Lloyd George.
The influences on Lloyd George of Gladstone and Abraham Lincoln.
Lloyd George's career and beliefs from 1890 to 1906.
and its impact on pre-war Liberalism.
Analysis of Lloyd George's rhetorical skills at the height of his powers.
Lloyd George and the revision of the Treaty of Versailles.
Lloyd George's stance on Germany, 1922-1945.
A. J. P. Taylor and the rise of Lloyd George studies.
Survey of manuscript sources.
Review of Roy Hattersley, The Great Outsider: David Lloyd George (Little, Brown, 2010).
Review of Stella Rudman, Lloyd George and the Appeasement of Germany 1919-1945 (Cambridge Scholars Publishing, 2011).