Journal of Liberal History 84
Issue: 84, Autumn 2014Price: £6.00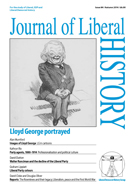 Journal of Liberal History 84
Contents
Chamberlain conference; Information wanted; Correction (Manchester); On this day in history.
How David Lloyd George was portrayed in cartoons throughout his long career.
Party agents (Michael Steed); John Buchan and the Liberal Party (David Steel); Queries (Michael Meadowcroft); Elections of the 1920s (Sandy Waugh).
The impact of the professional agent on electioneering and political organisation in the decades after the Third Reform Act.
Examination of the part played by Walter Runciman (1870-1949) in the disintegration of the Liberal Party.
It wasn't always orange or yellow…
Report of the History Group conference fringe meeting, 7 March 2014, with Ian Packer, Lord Shutt and Tina Walker; chair: Lord Kirkwood.
Report of the joint Liberal Democrat History Group, Liberal International meeting held at the National Liberal Club, 30 June 2014, with Louise Arimatsu and Robert Falkner; chair: Martin Horwood.
Review of Elizabeth Evans, Gender and the Liberal Democrats - Representing Women? (Manchester University Press, 2011).
Review of David Torrance, David Steel: Rising Hope to Elder Statesman (Biteback Publishing, 2012).
Review of Frederick Rosen, Mill (Oxford University Press, 2013).