Journal of Liberal History 86
Issue: 86, Spring 2015Price: £6.00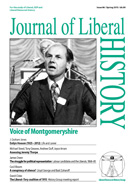 Emlyn Hooson – voice of Montgomeryshire;
Assessing Jeremy Thorpe;
Labour candidates and the Liberals 1868–85;
The Liberal–Tory coalition of 1915.
Contents
Obituary: Lord Mackie of Benshie; Obituary: Patrick Jackson; Taped interviews; Biography of Rufus Isaacs; Scottish Liberal Party's evidence to the Royal Commission on the Constitution; Sir Edward Grey; On this day in Liberal history.
Four views on Jeremy Thorpe's record and character.
Labour candidates and the Liberal Party, 1868–85.
Lloyd George and Basil Zaharoff.
An examination of the life and career of the Liberal MP for Montgomeryshire, 1962–79.
Report of the History Group evening meeting, 26 January 2015, with Ian Packer and Nigel Keohane; chair: Raymond Asquith (Earl of Oxford and Asquith and great-grandson of Herbert Asquith).
Review of John Campbell, Roy Jenkins: A Well-Rounded Life (Jonathan Cape, 2014).
Review of James Dixon, Out of Birmingham: George Dixon (1820–98), 'Father of Free Education' (Brewin Books, 2013).
Review of T. G. Otte and Paul Readman (eds.), By-elections in British politics 1832–1914 (Boydell, 2013).
Review of Sir Hugh Jones, Campaigning Face to Face (Book Guild Ltd, 2007).
Review of Martin Kyrle, The Liberals in Hampshire – a Part(l)y History Part 2: Eastleigh 1965–72: out in the suburbs something stirred! (Sarsen Press, 2013).