Liberal Democrat History Group Newsletter 10 – Special Issue: The Liberal Party and the Great War
Issue: 10, Spring 1996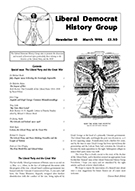 Liberal Democrat History Group Newsletter 10 – Special Issue: The Liberal Party and the Great War
Contents
Introduction to this special issue of the Newsletter.
British entry into the war offered the first test of Liberal values and of the calibre of Prime Minister Asquith. Examination of the events surrounding the declaration of war on 4 August 1914.
Reviews of Trevor Wilson, The Downfall of the Liberal Party 1914-1935 (Collins, 1966); Michael and Eleanor Brock (eds.), H. H. Asquith: Letters to Venetia Stanley (Oxford University Press, 1982).
The rivalry between Asquith and Lloyd George grew out of the Great War. This article argues that the points of similarity between the two were at least as important as their differences.
Liberal ministers had to deal with more than the Great War during the period 1914-18. Examination of the Liberal record on the Irish Question during this critical period.
The Great War laid many of the foundations for Labour's supplanting of the Liberals in the subsequent decade. Analysis of the relationship between the two parties during the war.
Liberalism's final test stemming from the Great War was its attitude towards peace. Richard S. Grayson finds the party's record wanting.
Was the Liberal Party fatally wounded by the war because liberalism proved incapable of coping with the strains of a major modern conflict? Professor Chris Wrigley questions the accepted view.