The Journal of Liberal History is the only journal for the discussion and research of historical topics relating to the histories of the Liberal Democrats and its predecessor parties, the Liberal Party and the SDP, and of Liberalism. Its contents appeal to anyone with an interest in the history of British Liberalism, whether academics, party activists or spare-time students of political history.
Published quarterly since 1993, the Journal features articles, original research, biographies of leading (and more obscure!) Liberal figures, reports of Liberal Democrat History Group meetings, book reviews, guides to archive sources and a regularly updated Research in Progress column.
To subscribe to the Journal, please visit our subscriptions page. You can subscribe to receive either print issues, or digital issues, or print plus digital. Our subscription year runs from October to October and includes four issues (published mid-September, mid-January, mid-April and mid-July). The subscription includes membership of the History Group, which gives you discounts on all History Group publications.
All but the most recent ten issues of the Journal are available free for download, either as complete issues or as individual articles – see the list below. The most recent ten issues are only available online to digital or digital plus print subscribers. Individual print copies are available to buy from the Liberal History Shop.
Latest Journal Issue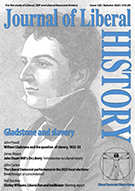 Liberal history news (Peter Hellyer, 7 November 1947 – 2 July 2023; Memories of a previous Uxbridge by-election; Candidates Directories published); William Gladstone and the question of slavery, 1832–33 (John Powell); John Stuart Mill's On Liberty (James Moore); The Liberal Democrat performance in the 2023 local elections: Breakthrough or consolidation? (John Curtice); Meeting report – […]
Contributions to the Journal are very welcome; please contact the Editor to discuss your proposed article. Guidelines for authors are available here. The Journal is a peer-reviewed publication.
The Journal's Editorial Board oversees and advises on its publication and contents, and members also act as peer reviewers. Its membership is currently: Dr Malcolm Baines; Dr Eugenio Biagini; Dr Ian Cawood; Dr Matt Cole; Dr David Dutton; Professor Michael Freeden; Dr Alison Holmes; Dr J. Graham Jones; Dr Tudor Jones; Caron Lindsay; Tony Little; Professor Nancy LoPatin-Lummis; Michael Meadowcroft; Dr Tim Oliver; Dr Ian Packer; Dr John Powell; Dr Stéphanie Prévost; Jaime Reynolds; Dr Kathryn Rix; Dr Emma Sanderson-Nash; Dr Iain Sharpe; Dr Seth Thevoz; Dr William Wallace (Lord Wallace of Saltaire).