Jeremy Thorpe MP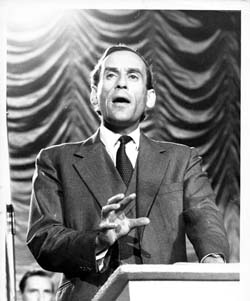 Leader of the Liberal Party 1967-1976
Born 1929 - Died 2014
Biographies
The infamy of Jeremy Thorpe's downfall unfairly colours all else in his life. Thorpe was a stylish, progressive and popular politician. Under his leadership the Liberal Party won more votes than ever before or since at a general election and helped drive legislation taking Britain into the European Community through a divided Parliament. But the […]
Related History
The National Sound Archive at the British Library holds various recordings of key Liberal figures.
Related Journal Articles
David Steel on his recollections of Jeremy Thorpe
Review of A Very English Scandal, BBC One, 20 May – 3 June 2018
John Preston, A Very English Scandal: Sex, Lies and a Murder Plot at the Heart of the Establishment (Viking, 2016)
Liberal Democrat History Group meeting, 6 February 2017, with Ronald Porter; chair: Michael Steed
Review of Michael Bloch, Jeremy Thorpe (Little, Brown, 2014).
Four views on Thorpe's record and character
A commemoration of the Liberal leader Jeremy Thorpe, who passed away in December 2014.
Interview with Jeremy Thorpe, leader of the Liberal Party 1967-76.
Review of Jeremy Thorpe, In My Own Time (Politico's Publishing, 1999).
The first phase of the Liberal postwar revival came to an end with the resignation of Jo Grimond as leader. Tim Beaumont recalls the election of his successor.
Report of the unveiling of a portrait bust of the Rt Hon. Jeremy Thorpe at the House of Commons on 15 July 2009.
The Conservative-Liberal coalition talks of 1-4 March 1974.
Interview with the former Liberal leader.
Posted on by Liberal History and last modified on by Chris Millington / Permalink to «Jeremy Thorpe»