Journal of Liberal Democrat History 17
Issue: 17, Winter 1997Price: £3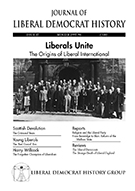 Journal of Liberal Democrat History 17
Contents
1997 marked the fiftieth anniversary of the foundation of Liberal International. This article traces the events of 1947.
After 300 years, Scotland is to have a Parliament again. This article examines the role of Jo Grimond in the story of Scottish devolution.
Report of LDHG meeting of July 1997, with Alan Beith MP and Jonathan Parry.
Report of LDHG meeting of September 1997 on the welfare state, with Frank Field MP and Nick Timmins.
The role of foreign policy issues in the growth of the Young Liberals in the 1960s and '70s.
The story of the Liberal who helped ensure that British citizens today are not compelled to carry identity cards.
Review of George Dangerfield, The Strange Death of Liberal England (Serif, 1997).
Review of Don MacIver (ed.), The Liberal Democrats (Prentice Hall, 1996).