Journal of Liberal History 43
Issue: 43, Summer 2004Price: £5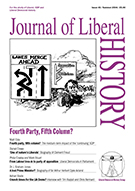 Journal of Liberal History 43
Contents
The medium-term impact of the continuing SDP.
The Liberal Party and the Risorgimento (Tony Little); Bringing about a beneficial change in the law (C. H. Pritchard).
Biography of Sir Clement Freud, Liberal MP 1973-87.
Liberal Democrat voting in the House of Commons 1992-2003.
Biography of Sir Arthur Herbert Dyke Acland (1847-1926).
Report of Liberal Democrat History Group meeting of September 2003, with Alan Wyburn-Powell and Dr David Roberts.
Interviews with Tim Razzall and Chris Rennard.
Review of Alan Wyburn-Powell, Clement Davies: Liberal Leader (Politico's, 2003).
Review of Colin Clifford, The Asquiths (John Murray, 2002).
Review of David Walter, The Strange Rebirth of Liberal England (Politico's, 2003).
Review of William D. Rubinstein, Twentieth-Century Britain: a Political History (Palgrave Macmillan, 2003).