Journal of Liberal History 51
Issue: 51, Summer 2006Price: £5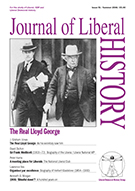 Journal of Liberal History 51
Contents
A. J. Sylvester's classic semi-biographical work, its impact and reactions to its contents and influence.
Gladstone's library under threat.  The Gladstone Project aims to safeguard Gladstone's library at St Deiniol's.
The life and political career of a Liberal and Liberal National MP and activist.
History of the National Liberal Club.
The career of William Gladstone's youngest son, Herbert Gladstone (1854-1930).
Election 2006 (Antony Wood).
Lecture to the Corporation of London, February 2006.
Review of Ian Hunter (ed.), Winston and Archie: The Letters of Sir Archibald Sinclair and Winston S. Churchill (Politico's, 2005).
Review of Stephen Barber, Political Strategy: Modern Politics in Contemporary Britain (Liverpool Academic Press, 2005).
Review of Chris Cook, The Routledge Guide to British Political Archives: Sources since 1945 (Routledge, 2006).
Review of Andrew Russell and Edward Fieldhouse, Neither Left nor Right? The Liberal Democrats and the Electorate (Manchester University Press, 2005).
Sources in the Manuscript Division of the National Library of Scotland.