Journal of Liberal History 59
Issue: 59, Summer 2008Price: £6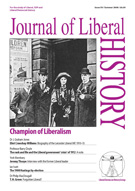 Journal of Liberal History 59
Contents
Ireland's Liberal MPs (Dr Alexander S. Waugh); The London record (Adrian Slade and Michael Meadowcroft); Lloyd George and Hitler (Harry Davies).
Biography of the left-leaning Liberal MP for Leicester, 1910-13, Eliot Crawshay-Williams (1879-1962).
One activist's reaction to the key issues facing the Liberal government in 1912.
Interview with the former Liberal leader.
The story of the first by-election to be fought after the introduction of the Liberal government's 1908 legislative programme.
Arguments for T. H. Green as the greatest British Liberal.
Report of meeting of 7 March 2008, with Lord Goodhart, Lord Clement-Jones and Dr David Dutton.
Report of centenary commemorations in Scotland, April 2008.
Review of Mark Oaten, Coalition: The Politics and Personalities of Coalition Government from 1850 (Harriman House, 2007).
Review of Leslie Mitchell, The Whig World 1760-1837 (Hambledon Continuum, 2005).
Review of Jonathan Parry, The Politics of Patriotism: English Liberalism, National Identity and Europe 1830-1886 (Cambridge University Press, 2006).
Review of Eugenio Biagini, British Democracy and Irish Nationalism, 1876-1906 (Cambridge University Press, 2007).