Journal of Liberal History 66
Issue: 66, Spring 2010Price: £7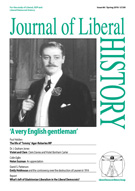 Journal of Liberal History 66
Contents
The 1906 election, and Sir Charles Grey MP (Sandy S. Waugh); Margaret Wintringham (Graem Peters); Albert McElroy (Graham Lippiatt)
Gladstone bicentenary; Gladstone and Bulgaria; Gladstone bicentenary event in Edinburgh; What would Gladstone think?; New on the History Group website
The life of Captain the Hon. Thomas Charles Reginald Agar-Robartes, Liberal MP 1906, 1907-15.
Report of History Group meeting of 25 January 2010, with Dr Eugenio Biagini and Chris Huhne MP. Chair: William Wallace (Hon. President, Liberal Democrat History Group).
Examination of the relationship between Liberal leader Clement Davies and Lady Violet Bonham Carter.
Personal recollection of the life of South Africa's first anti-apartheid MP.
Emily Hobhouse's role in attempting to reveal the facts behind the German destruction of the Belgian city of Leuven in 1914.
Review of Andrew Cook, Cash for Honours: The Story of Maundy Gregory (The History Press, 2008).
Review of Alan Beith, A View from the North (Northumbria University Press, 2008).
Review of John Campbell, Pistols at Dawn: Two Hundred Year of Political Rivalry, from Pitt and Fox to Blair and Brown (Jonathan Cape, 2009).