Journal of Liberal History 68
Issue: 68, Autumn 2010Price: £6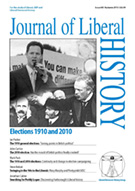 Journal of Liberal History 68
Contents
Lloyd George book launch; Song for Francis Hirst; George Newnes: Liberal press baron.
Turning points in British politics?
Pennine Liberal representation (Michael Steed); Campbell-Bannerman (Michael Meadowcroft); George Garro-Jones (Sandy S. Waugh); Radical Reform Group (William Wallace); Liberator (Mark Smulian).
Has the mould of British politics finally cracked?
Continuity and change in election campaigning.
Mary Murphy and Pontypridd Urban District Council.
Liberal Heritage: discovering Harborough's Liberal history.
Report of the Liberal Democrat History Group conference fringe meeting held in Birmingham, 12 March 2010, with Matt Cole, Michael Steed, William Wallace, George Kiloh, and Bernard Greaves; chair: Tony Greaves.
Report of meeting of 12 July 2010; with Professor Edward Royle and Dr Edward Vallance. Chair: Dr Richard Grayson.
Review of Anne and Paul Bayliss, Scarborough's MPs 1832 to 1906; Scarborough's Mayors 1836 to 1906; A Biographical Dictionary (A. M. Bayliss).
Review of Shirley Williams, Climbing the Bookshelves (Virago Press, 2009).
Review of Mark Oaten, Screwing Up (Biteback, 2009).
Review of Adrian Vaughan, Samuel Morton Peto: A Victorian Entrepreneur (Ian Allan, 2009).