Journal of Liberal History 78
Issue: 78, Spring 2013Price: £6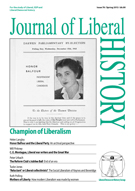 Journal of Liberal History 78
Contents
History Group plaque; PhD in political history; Archiving the 'Red Guard'; The Liberal Party, Unionism and political culture.
The war writings of a Liberal author.
D. S. Macdonald (David Steel); Immigration (Sandy S. Waugh); Roy Jenkins and Lloyd George (Alan Mumford); C. L. Mowat and Lloyd George (Rufus Adams).
The social liberalism of John Maynard Keynes and William Beveridge, 1922-1945.
How modern Liberalism was made by women. Report of a Liberal Democrat History Group meeting at the Liberal Democrat conference, 22 September 2012, on the role of women in Liberalism and the Liberal Party. Speakers: Helen McCabe, Jane Bonham-Carter, Jo Swinson; Chair Lynn Featherstone
Review of Chris Bowers, Nick Clegg: The Biography (Biteback, 2011; paperback edition, 2012) and Jasper Gerard, The Clegg Coup (Gibson Square, 2011).
Review of Willis Pickard, The Member for Scotland: A Life of Duncan McLaren (John Donald, 2011).
Review of Mary E. Daly and Theordore Hoppen (eds.), Gladstone: Ireland and Beyond (Four Courts Press, 2011).