Journal of Liberal History 80
Issue: 80, Autumn 2013Price: £6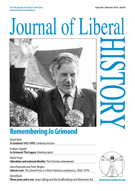 Contents
Jo Grimond centenary – Orkney weekend, 18-19 May; Viscount Bryce blue plaque unveiled in Belfast; On Liberties: Victorian Liberals and their legacies; Liberal Democrat History Group website.
David Steel's commemoration lecture, given at Firth Kirk, Finstown, Orkney, 18 May 2013.
Report of the Liberal Democrat History Group meeting at the National Liberal Club, 10 June 2013, with Peter Sloman, Harry Cowie and Michael Meadowcroft; chair: Tony Greaves.
Honor Balfour (Mark Egan); 1963 Dumfries by-election (David Steel); Aubrey Herbert (Lionel King); Liberals and Ireland (Sandy Waugh); Women leaders (Anthony Hook).
An examination of the role played by Liberalism in the Victorian construction of a national identity.
The Liberal Party in a West Yorkshire constituency, 1920s-1970s.
Jesse Collings and the Smallholdings and Allotments Act 1908.
Review of Antony Lentin, Banker, Traitor, Scapegoat, Spy? The Troublesome Case of Sir Edgar Speyer (Haus, 2013).
Review of Ian Cawood, The Liberal Unionist Party: A History (I.B. Tauris, 2012).
Review of Richard A. Gaunt, Sir Robert Peel: The Life and Legacy (I. B. Tauris, 2010).
Review of Ros Aitken, The Prime Minister's Son: Stephen Gladstone, Rector of Hawarden (University of Chester Press, 2012).
Review of Michael Meadowcroft, A Guide to the Works of Art of the National Liberal Club, London (National Liberal Club, 2012).