Journal of Liberal History 81
Issue: 81, Winter 2013Price: £6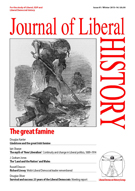 Journal of Liberal History 81
Contents
The Jews and Liberalism (1928 Liberal pamphlet); On this day in history.
An exploration of Gladstone's reaction to the Great Famine, some two decades before his first premiership.
Party agents (Michael Steed); Jo Grimond (Derek Barrie); Jesse Collings (Sandy Waugh and Roger Jenking); James Bryce and secondary education (Brian Cane).
Continuity and change in Liberal politics, 1889-1914.
An exploration of the formulation of the Liberal Green Book and its impact on Liberal fortunes in rural Wales.
Interview (from 2003) with the former Welsh Liberal Democrat leader.
Report of a Liberal Democrat Conference fringe meeting, September 2013, with Paddy Ashdown, Duncan Brack, John Curtice, Mark Pack and Julie Smith.
Review of Duncan Brack (ed.), The Dictionary of Liberal Quotations (Biteback Publishing, 2013).
Review of Patrick Jackson, Morley of Blackburn (Fairleigh Dickinson University Press, 2012).
Review of Jesse Russell and Ronald Cohn, Wallace Lawler (Bookvika Publishing, 2012).