Journal of Liberal Democrat History 23
Issue: 23, Summer 1999Price: £3.5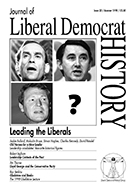 Journal of Liberal Democrat History 23
Contents
As the Liberal Democrats enter their second leadership contest, Robert Ingham looks at contests of the past.
Liberal Democrat leadership candidates describe their historical inspirations.
As politicians today grapple with the so-called 'Third Way,' perhaps they should consider the lessons of the past.
The Gladstone Lecture, given at St Deiniol's Library, Hawarden, on 8 July 1998, in the centenary year of Gladstone's death.
Not only a notable philosopher, John Stuart Mill was also active on many political issues of the day. Robert Ingham looks at one, topical once again.
Report of LDHG meeting of March 1999, with Donald Gorrie MP and Gordon Lishman.
Biography of William Lygon, 7th Earl Beauchamp (1872-1938).
Liberal and related archives at the University of Hull.
Review of Jeremy Thorpe, In My Own Time (Politico's Publishing, 1999).
Review of Simon Freeman and Barrie Penrose, Rinkagate: the rise and fall of Jeremy Thorpe (Bloomsbury, 1996).
Review of Matthew Parris, Great Parliamentary Scandals (Robson Books, 1995).
Review of Angus Hawkins and John Powell (eds.), The Journal of John Wodehouse, First Earl Kimberley, 1862-1902 (Cambridge University Press, 1997).
Review of, Party Political Broadcasts: The Greatest Hits (Politico's Publishing, VHS).
Review of George L. Bernstein, Liberalism and Liberal Politics in Edwardian England (Allen & Unwin, 1986).